07 12
18
7. Dezember 2018
Bester Mann nominated for Austrian Film Award
Related Posts
Bester Mann nominated for Austrian Film Award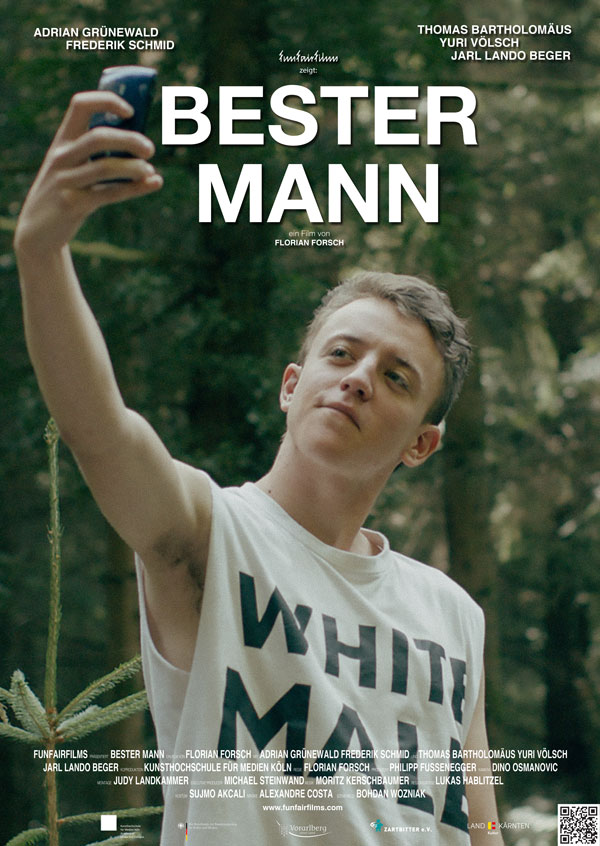 BESTER MANN nominated for Austrian Film Award
The Academy of Austrian Film has nominated Funfairfilms' "Bester Mann" alongside 14 other Austrian short and mid-length films for the category of Best Short Film. The awards ceremony will take place on January 30th 2019 at the Vienna City Hall where they will honour the outstanding achievements of the previous Austrian film year in 16 categories.
http://www.oesterreichische-filmakademie.at/2019/nominierungen2019.html
We would like to take this opportunity to thank the entire team for their remarkable work and time spent as well as the many supporters, critics, donors and sponsors – without you, this spectacular achievement would not have been possible!
The nomination for the Austrian Film Award is an amazing way to conclude 2018 and brings energy and resolve to Funfairfilms in the coming year. Keep your fingers crossed so that we can bring the trophy home!
Thanks to our amazing TEAM:
| | |
| --- | --- |
| DIRECTOR | Florian Forsch |
| SCREENPLAY | Florian Forsch |
| PRODUCER | Philipp Fussenegger |
| EXECUTIVE PRODUCER | Michael Steinwand |
| DIRECTOR OF PHOTOGRAPHY | Dino Osmanovic |
| EDITOR | Judy Landkammer |
| LINE PRODUCER | Michael Steinwand |
| REGIE ASSISTENT | Lukas Hablitzel |
| AUFNAHMELEITUNG | Felix Groefler |
| 1. KAMERAASSISTENZ | Benjamin Schmid |
| 2. KAMERAASSISTENZ , DIT | Rebecca Ohlenburg |
| OBERBELEUCHTER | Vitali Kirsch |
| BELEUCHTERIN | Zoe Manta |
| SZENENBILD | Bohdan Wozniak |
| SZENENBILD ASSISTENZ | Andreas Wittmann |
| SET-TON | Anna Mönnich |
| MAKING OF | Andreas Wittmann |
| MASKE, SFX, GARDEROBE | AlexandRE Costa |
| KOSTÜM | Sujmo Akcali |
| PRODUKTIONSLEITUNG | Michael Steinwand |
| HERSTELLUNGSLEITUNG | Linda Moritz |
| PRODUKTIONSASSISTENZ | Marion Eisenmann |
| SCRIPT CONSULTING | Zazou Röver |
| ACTOR CONSULTING | Susanna Weber |
| SOUNDDESIGN | Moritz Kerschbaumer |
| MISCHUNG | Ralf Schipke |
| VFX | Gabriel Matzkin |
| COLOR- GRADING | Fabiana Cardalda |
| MASTERING | Ewald Hentze |
| CATERING | Inga Benti |
| CAST |   |
| KEVIN | Adrian Grünewald |
| BENNIE | Frederik Schmid |
| THOMAS | Thomas Bartholomäus |
| DAVID | Jarl Lando Beger |
| MILAN | Yuri Völsch |
| AXEL | Alexander Steindor |
| PASCAL | David Rothe |